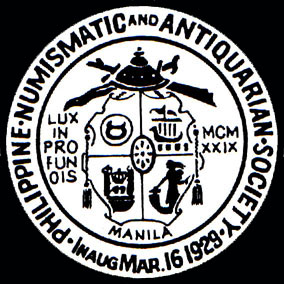 This is a mail and public auction conducted by the PHILIPPINE NUMISMATIC & ANTIQUARIAN SOCIETY herein referred to as the PNAS.
Lots shall be sold to the HIGHEST BIDDER. THAT IS, ONE INCREMENT ABOVE THE SECOND HIGHEST BID. In case of tied mail bids, preference shall be given to the bid first received. However, in case of tie between the floor and mail bidder, the lot will be awarded to the mail bidder unless the floor bidder raises his bid one increment over the mail bidder's maximum bid.
All lots have been examined very carefully by the Auction Committee and are therefore sold as genuine unless otherwise specified in the lot description. In case of dispute, the buyer may obtain a certificate of authenticity from a reputable authority at his expense, such as the Philatelic Foundation or the American Philatelic Society or the American Numismatic Association for the numismatic materials. Since all lots must be paid in advance upon receipt of Notice of Purchase, a refund will be made on any lot proven otherwise than described. Bidders must notify us within 30 days after the auction that an opinion is being sought. However, under no circumstances will lots be accepted for return four (4) months after the auction date. A finding of "NO OPINION" shall not be grounds for refund.
THIS IS NOT AN APPROVAL SALE. The price indicated on each lot is the minimum stipulated starting bid and not an estimate. Any bid below this amount will not be accepted. Lots incorrectly described are returnable within seven (7) days of receipt and must be returned in the identical condition as shipped. The following lots cannot be returned for the following reasons; Lots of 10 items or more; Documents and literature; lots described as having faults; illustrated lots; and lots sold "AS IS". Lots obtained by floor bidders and those acting, as agents for another party cannot be returned.
Minors may, upon special request, be allowed to bid provided they can show conclusive proof of parental consent to purchase items in the Auction.
FOR MAIL BIDS, A SEVEN PERCENT (7%) BUYER'S COMMISSION WILL BE ADDED TO THE HAMMER PRICE. Postage, handling and insurance (if required) will be charged to the buyer. Mail bidders are expected to make payment within five (5) days after receipt of notification. Delivery to the successful mail bidders will be via Express Mail Service (EMS), return receipt requested, or if requested via registered airmail, return receipt requested, and sent to the address as specified in the bid sheet, unless prior alternative delivery arrangements have been made. Proof by the Association that the lot won by the mail bidder has been sent via Express Mail Service (EMS) to the specified mailing address of the bidder shall constitute delivery. The sponsor and organizers of this international auction will not be held responsible for loss in the mail.
FOR MAIL BIDS, accounts can be settled either by personal checks, bank draft or telegraphic transfer, payable in U.S. currency and drawn only in any U.S. banks and made payable to Philippine Numismatic & Antiquarian Society with address at: * 1193 Maria Orosa St. Ermita Manila Philippines 1000 * Tel. / Fax (632) 7339682 * le_moren@yahoo.com. Personal check payment must be cleared first (US CLEARING). Philippine Banks require thirty (30) days clearing time from the date of deposit for foreign checks. Lots will be shipped immediately on payments in the form of CASHIER"S or MANAGER"S CHECK and BANK DRAFTS, our bank does not accept of Money Order. PNAS will not be held responsible for loss of check/s or cash by mail.
In order to participate in the floor bidding prospective bidders are required to registered on the day of the auction. Lots sold on the floor to mail bidders shall be referred to as book bids. Unless prior arrangement has been made to the PNAS all floor bidders are required to settle all accounts right after the auction. Floor bids must be paid immediately, otherwise they will be treated as "MAIL BIDS" with corresponding 7% BUYERS Commission.
Only whole United States Dollars are recognized in this auction. Bidders in fraction of the U.S. dollar will be adjusted to the following price bumps or bidding increments: US$10-$50 ($2); $51-$100 ($5); $101-$500 ($10); $501-$1000 ($25); $1001-$2000 ($50); $2001 above ($100).
The Auctioneer cannot be responsible for errors of bidders. Please make certain that you bid on the correct lot and that your bid is the maximum that you are willing to pay. The PNAS reserves the right to regroup lots, withdraw lots and act on behalf of the sellers. Allow at least 15 days for delivery of winning bids sent via regular air post. Lots not sold on the floor may be awarded to late bidders.
All bid sheets submitted by the mail bidders must be signed. Company bids must be submitted with the signature of the duly authorized agent of such Company. Floor bids must be paid immediately, or else it will be treated as Mail bids with the 5% buyers fee.
Bidding in this sale constitutes acceptance of all the TERMS AND CONDITION OF SALE.